Fact: The pregnancy glow is real. But while you have seriously stunning skin to look forward to as a mama-to-be, there's also a chance you'll experience some seriously frustrating hormone-related hyperpigmentation. Often referred to as "the mask of pregnancy," melasma — brown spots that appear on your face, mainly your forehead, cheeks, and upper lip — is super-common amongst expecting moms.
Not an expecting mom, but still seeing these frustrating dark patches on your face? That's because, even though it's known as a pregnancy conditions, pregnant ladies aren't the only ones who are susceptible to developing melasma. Keep reading to learn more about what causes these dark patches on the skin and how they can be treated.
Help! Why do I have brown splotches all over my face?!
Melasma is caused by an overproduction of melanin, a substance found in your body that's responsible for your skin color. Doctors have identified two main culprits that spur melanin production: hormonal changes and sun exposure. And while anyone can get melasma, it's more common in women — those with Asian, Hispanic, and darker Mediterranean skin tones in particular.
For some people, melasma appears as a brownish shadow on a patch of their skin; for others, it's in dark patches on their upper lip or cheeks; some people see symmetry in their splotches and patches.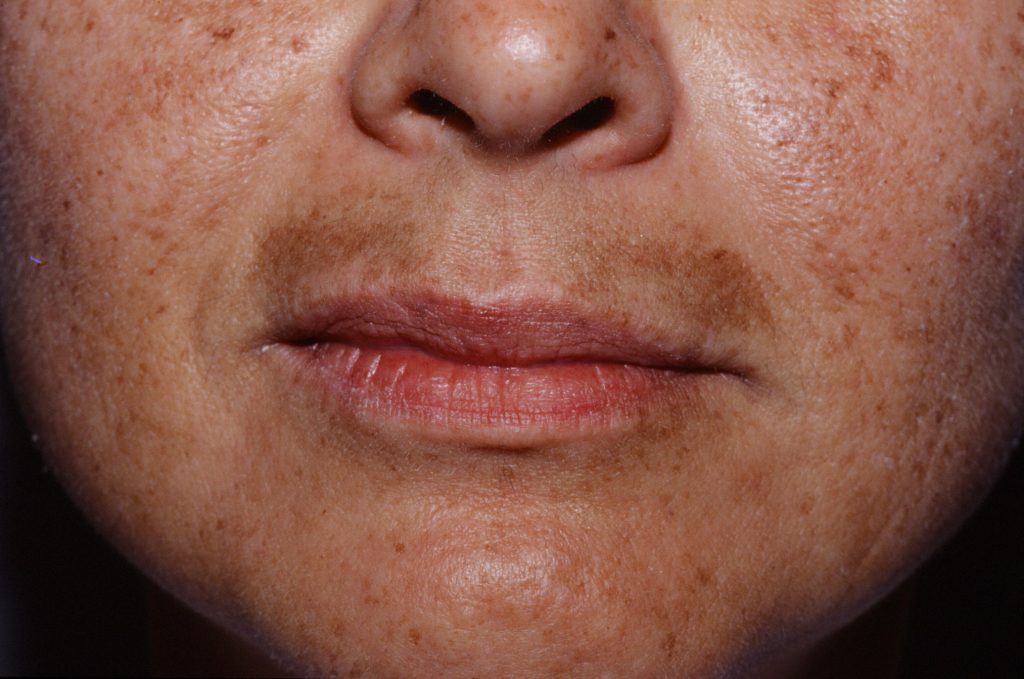 Melasma can be related to changes in your estrogen and progesterone levels. These are the two most common female hormones, which is why melasma is much more likely to happen to women — especially during pregnancy, when both of these hormones surge. (Ugh, we know — so not fair!) In addition to pregnancy, birth control pills and hormone therapy — both of which affect your estrogen and progesterone levels — can also lead to melasma.
Sun exposure is the other big factor that can contribute to melasma. When you spend time in the sun sans protection (this means forgetting SPF and your hat), it can cause your skin to start producing more melanin — hence why you might notice brown patches rearing their ugly heads if this something you do on the regular.

Is there anything I can do to prevent more melasma? 
When it comes to treating melasma, sun protection is key. (We know: We probably sound like a broken record, but sun safety is so important!) Choose a broad-spectrum sunscreen that has an SPF of 30 or higher and apply a shot glass' worth 15 minutes before heading outside. And, just as importantly, remember to reapply every two hours!
Other easy steps you can take to shield your skin from the sun? Wear a wide-brimmed hat and protective clothing, find some shade as much as possible.
It's also a good idea to use gentle skin care products to make sure you don't make your dark spots worse (like SLMD's Salicylic Acid Cleanser). Products that irritate your skin really do have the potential to make your melasma more visible. Yikes.
You should also nix waxing any areas that have brown patches. Waxing could cause skin inflammation, and this inflammation could worsen melasma.
What can I do to get rid of my melasma?
There are also a huge range of lightening and brightening treatments on the market. Though these are typically geared toward hyperpigmentation, sun spots and age spots, they will also work on dark patches from melasma, as all these conditions are just an increase in melanin at the surface of your skin.
http://theprettypimple.com/13-ways-get-rid-dark-spots/
As far as actual melasma treatments at a dermatologist's office go, there are a variety of in-office treatments that might help fade your discoloration. These include certain types of lasers (IPL is one of them), chemical peels, and microdermabrasion.
Chemical peels sounds cary but they range from mild to rather invasive, and can yield great results. Microdermabrasion may be a good option too, and though sanding your skin sounds painful and scary, it's actually really helpful for shedding layers of skin. The other good news is, if your melasma is hormone-related, it'll oftentimes resolve itself on its own (such as when your pregnancy ends or if you quit taking birth control). Phew.